CAMPAIGN
GETS
SOME
RNR WITH
CONTROLLED
LABS
BLUE
GROWTH
LOG
CONTROLLED LABS BLUE GROWTH
More information about
Blue GrowtH
SUPPLEMENT FACTS
FOREWORD
First of all I would like to personally thank 5Six for giving me the opportunity to test this innovative new HGH boosting product. Since I have developed a strong supplemental basis with products like Orange Triad and Orange OxiMega, I feel as though I can now start to introduce more complex supplements into my regimen, almost like the "icing on the cake," in order to compliment my well-established foundation. With that being said, I have quite extensive experience with various supplements except in the area of natural GH enhancement; therefore as this log tracks my progress, I encourage everyone to comment and/or provide feedback on anything that may improve the effectiveness of this product.
GOALS
With this Blue GrowtH log I will be taking note of...
- Overall wellness
- Deeper sleep patterns
- Enhanced recovery
- Increased muscle strength
- Sexual Benefits
BACKGROUND
I have always been fascinated by the way in which a supplement can have an effect on one's body and therefore have a vast experience with many different products. However, one area that I've always shied away from is natural HGH boosters. There is no one particular reason for ignoring this type of product, I guess I always just subconsciously assumed that if my sleep was half decent and I didn't toss and turn all night that my GH levels would be optimal. But after doing some research I found that this most likely was not the case. The pituitary gland produces high levels of HGH during the NREM phase but in order to reach this phase one must be in a deep state of sleep. As a result, I'm hoping that Blue GrowtH will not only help put me a deeper state of sleep but also, in turn, promote muscle strength and size. Since this is really the first natural HGH product that I've run, I don't have much to compare it to, but at least I'll be able to tell if it actually works! We shall find out!
VITAL STATS
Age: 25
Height: 6'0"
Weight: 178lbs.
Bodyfat: Approximately 10%
Body type: Ecto-meso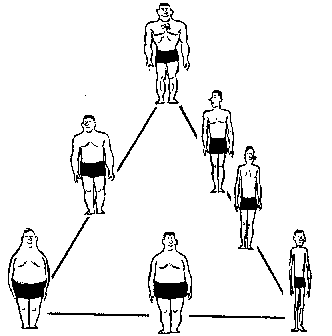 DOSAGE
First Dose
Start by taking 1 capsule to assess your individual tolerance. If you experience any unusual occurrence, stop and consult your doctor.
Directions
Take 5 capsules 30-60 minutes before bed on an empty stomach. Consume with at least 6 ounces of water. Take this product daily. Consume at least 1 gallon of water per day.
CURRENT DIET
I'm finally reaching the end of a very effective 3 month cut, in which I cut down from 205lbs. and about 14% bodyfat to 178lbs. with 10% bodyfat. In order to begin the process of bulking for the winter, I've decided to first start with a recomp in which I gain lean muscle mass to 190lbs. with minimal fat gain. I'm putting the final touches on my new diet so the one below is what I typically ate while cutting. Here's a teaser though, my recomping diet is based on a concept created by Daniel Roberts
(Sample)
Meal 1
- 6-8 Egg Whites (1 yolk)
- 3/4 Cup of Steel Cut Oats
- OxiMega Greens
Meal 2
- Protein Shake
- Green Veggies
Meal 3
- Chicken Breast
- Cottage Cheese Cup
Meal 4 (Preworkout)
- 2 Canned Tuna
- 1tbsp. Full Fat Mayo
- Green Veggies
Meal 5 (Postworkout)
- Protein Shake x 2
- Chicken Breast
- 1 cup of brown rice
Meal 6
- Lean protein of choice
- Green veggies
- Orange OxiMega
Meal 7
- 1 scoop ON Casein Protein
- 2tbsp. Peanut Butter
CURRENT WORKOUT ROUTINE
Day 1: Chest/Cardio
- BB Bench Press
- DB Decline Press
- DB Incline Flyes
- DB Pullovers
- DB Front Raises
- Slanted Dips (Weighted)
SUPERSET WITH...
- Pushups
45 Minutes on the Stairclimber
Day 2: Arms/Abs
- Standing BB Curls
SUPERSET WITH...
- Close Grip Bench Press
- Incline DB Curls
SUPERSET WITH...
- Rope Pushdown
- High Cable Curls
SUPERSET WITH...
- Skull Crushers
-Jay Cutler Abs Routine
Day 3: Wide Back/Calves/Cardio
- Weighted Chinups
- Wide Grip Pullups
- Straight Arm Pushdowns
- Bent Over BB Rows
- Seated Close Grip Rows
- Standing Calf Raises
- Seated Calf Raises
- DB Toe Raises
- HIIT Eliptical Machine Cardio
Day 4: Shoulders/Abs
- DB Shoulder Press
- BB Military Press
- Cuban Rotations
- Side Raises
- Lateral Raises
- Rear Delt Flyes
- Haney Shrugs
- DB Shrugs
- Jay Cutler Abs Routine
Day 5: Thick Back/Cardio
- Deadlifts
- Bent Over Single Arm DB Rows
- Close Grip T Bar Rows
- Seated Rows
- Face Pulls
- 45 Minutes on Stairclimber
Day 6: Legs
- Leg Extensions
- BB Squats
- Leg Press
- Lunges
- Leg Curls
- Standing Single Leg Curls
- Stiff Legged Deadlifts
Day 7: Rest